Pink Monkey Knits
Using my opposable thumbs to knit up a storm!
Tuesday, August 31, 2004
Yes folks, some important knitting decisions were made this week. The biggest one - phew - is that I'm going to rip out Sonnet. Not today, Not tomorrow but someday, my first sweater will someday be a bunch of expensive, fluffy yarn balls again. Yes, it is my first sweater and I put, like, three months into it but I really figured out that I'm not happy with it, not the style or the fit. I'd hate for it just to languish in my closet so I'm going to start all over again. I'm going to play with the gauge and make it into the Go Everywhere cardigan from
Stitch N Bitch
, which is actually what I wanted to make in the first place but my crochet-phobia got in the way. Now the yarn will return to its destined path - it's really a beautiful thing.
The crochet-phobia, like Sonnet, is also a thing of the past. Due the kindness of one of our DC Stitch n Bitchers, I was able to conquer this fear! I had crocheted in the past but wasn't very good about it and had a lingering fear of it since. Completely unfounded, it's so so easy. I used it to - drumroll please - finish Doris!! She's so pretty and delicate, this is the time when I really wish I had a digi camera. Someday soon, readers. Question in the comments as to the whereabout of the pattern on the Berroco Website. It's not a free pattern, it's in Berroco #223,
Multiple Choice,
and you can find more info about it
here.
I also got my yarn for the DC SnB Kyoto Sweater Extravaganza over the weekend. The sash portion will be black and the top will be a very pastel minty type green color. We're not supposed to start until Thursday but we're going to be doing some driving this weekend, I might have to dig in...I may be good, though, and make the scarf for Cobra instead. You may see on the sidebar that I've changed its name to the HCPFR Scarf. This goes back to my high school days when these letters stood for Hard Core Punk Fuckin' Rock. That's because I convinced him to let me through in some rock n roll style ladders as
Share
demonstrated the other day and some crossed stitches. Basically, it's going to be awesome and I'm really excited to start on it.
As I write this, Arnold's schticky speech at the RNC is absolutely intolerable and the Bush twins are moronic. "We're not very political because we're too busy being drunken sluts, ha ha." Oh, the shame I carry by sharing my name with one of them. It all makes me want to puke up my delicious peanut butter and jelly smoothie.
Thursday, August 26, 2004
Firstly, go see Garden State. It's a fabulous film- funny, poignant, original. Great music, including Cobra favorite The Shins. In it, Peter Sarsgaard officially establishes himself as the creepiest actor in Hollywood. Yeah, he way surpasses Christopher Walken, especially after his turn as a rapist in
Boys Don't Cry.
This part is not even close to that but he still has dead eyes. After you see the movie, go to
Zach Braff's Garden State Blog.
Man, I get excited if a get one comment on my blog; his entries usually garner over 1000! I will get there someday...ha.
Secondly, check out this awesome
WWII reproduction Knit Kit
from the Red Cross. It's totally cute and includes everything you need to dive into sock-making, including olive drab yarn. If you already have all the yarn and needles that you need, you can get copies of the knitting patterns they used in their nationwide knitting campaigns
here.
Thricely, I realized that I really like doing the mattress stitch. It moves quickly and is very straightforward- I know exactly where the needle is going to go. I guess that means that I'm lucky and haven't inherited an anti-finishing gene like others have. Probably comes from my sewing background.
Have a great weekend, I know I'm going to be kickin' it.
Monday, August 23, 2004
I've been a bit slow in posting here. I told myself that I wasn't allowed to use any of the things on my desk until I cleaned up all the things that were on top of it. I'm breaking that promise a bit now, but just keep it cool little ones.
So I spent lots of time this past week (perhaps a bit more time than I should have...once again, DL) taking strolls around knit blog land. It seems like a lot of folks out there are going through some tough or crazy times right now - car crash injuries in
Hollyweird
, intense family time at
Monkey Knits
, job hunting for
Leya
and lots others. I should probably start feeling as stressed as they do soon as I'm organizing a weekend training for our activists at work in, oh, less than a month. I'm behind on doing things for that and in my work in general...I'm just having a hard time motivating myself with it lately. I'll skip the description of what's behind that for now but sigh, I feel guilty for it but that doesn't get my work done. Beyond that, my job, which is a temporary position, ends in December and I need to start thinking about what's going to happen then. I'd like to leave DC but there's a lot there...ugh, I don't even want to think about it. So I send out strength to you and try to keep some for myself to get through life's shit.
Otherwise, this has been the mildest August in DC in probably many a year. As yesturday was lovely, Cobra and I hopped on his motorcycle to go to..AC Moore! Ha ha, he's such a good boy. It was beautiful to ride out there in Maryland, the sun was beating down warmly but the air was very cool and felt delicious running over my skin. I do have flashes of fear when I think of how vulnerable we are but man, riding that machine is really sensual. Very different from the boxed-off-from-the-world-around-you feeling you have in a car.
We were going to AC Moore because of a conversation we had the other night where he revealed that he's wanted a really long scarf for a while. Why he did not tell me this previously, I can only guess. When we were at the store and looking at the colors, he asked if there's any way I could make a checked scarf for him. I said something along the lines of "No, it's pretty difficult" but I'm thinking "Hell No! What do you think I am, a professional?!?" I then offered various suggestions for stitch patterns to liven this up but he kept insisting how he wants it to be "plain." We may have to find some compromise so that it won't be the most boring thing to make ever. In other hypothetical future knitting, my friend Meagan lent me this awesome vintage needlecraft book. It has some absolutely beautiful patterns in 50's and early 60's styles, lots of lacy cardigans, suits, aran sweaters. I want to make them all! Some of the Patons Divine I saw yesturday would certainly suit those patterns well...we'll see.
The knittting for Doris: done. I haven't steam blocked her yet because like I said before, decided not to use the desk until I clean it. I'm probably going to see my little second cousins over Labor Day weekend, so I started making them some winter hats. I call the current one Shebert because I'm double stranding with a pink Sirdar baby yarn and lavendar TLC Baby Fingering and it looks like some sweet treats. The Baby Fingering (a name that freaks Cobra out every time he see it, ugh) has a white shiny strand running through it that gives the whole thing a nice sheen. Perfect for little 4-year-olds.
Time for this not so 4-year-old to get back to stichin'.
Monday, August 16, 2004
Some may think that I went to Maine for my job. The truth is I went to have a secret tryst with Doris.
This photo should actually be titled "Jenna-bored-and-lonely-in-HoJo-and-playing-with-work-camera." Here's a closer-up view of Doris' lovely colors: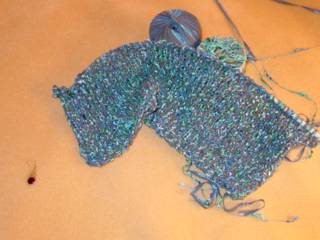 They're run together a bit in this picture but you can see the different shades and the overall ocean-y effect. I wasn't that far along when I took this pic but I'll actually finish the back tonight. Tonight! Then I'll have to try to overcome my crochet-phobia to finish the neckline and armholes. Ehhh, it makes me nervous but hopefully work friend and crochet expert Meagan will help me out. Down in the bottom, you can see the earring I use as a stitch marker. I found the pair in the front pocket of a purse I bought at a thrift store. The receipt was still with them, apparently the former owner got them while on a trip to Spain but forgot about them. I put them to good use now.
So back to Maine - it was very beautiful, great weather. I spent most of my time in Bangor, which is a way smaller town than I expected. The awesome part though is that the vegan restaurant in town is half a block from the yarn store. Man, I don't know what else a girl needs in a town. Not to mention the fact that the
City Side Yarn Co.
was
huge
and had some very nice people working there. Be sure to stop by if you're ever up there. I succumbed to this hand-dyed in Maine loveliness:
You can't see as well here, but there is some slight variation in the color throughout the ball. It is beautiful and a great deal with 570 yards in the skein! At first, I thought "hey, that's enough to make a shell from" but then I remembered that it was merino wool - probably not so great for summer wear. So instead, I think I will use it to make one of
Stefanie's
lovely designs - either a boob holder (now including directions for large tatas) or Bad Penny.
Lastly, I bought some buttons for Sonnet and finished her up.
You can see that I'm not looking so happy. I'm not sure if I like my first sweater! Such a shunde, as my Jewish grandmother would say. Look closely at the neckline there, see how it's slipping off my shoulder? And you can even see the angora fluffing off, too. I guess it looks alright but it's just so annoying to wear. The neckline could probably be stabilized with some ::shudder:: crochet but you've got another think coming if you think I'm going to spend money on another ball of that yarn just for some neck crocheting. Maybe if I hide it for a little while, I'll find it and love it. Other opinions would be greatly appreciated!
Off to celebrate Cobra's birthday, that old man.
Monday, August 09, 2004
You may have noticed that I'm having some technical difficulties with my blog. Hopefully, they will be corrected soon.
Raggin' on Bush
I feel like I should make this a semi-regular feature on here because, hey, it's so easy. You must go
here
and watch this movie because it is so f'ing funny. I screamed with laughter when I watched it, especially the "I was just mending my fences" part.
Normal Content
I had a few knitting revelations this week. The first happened as I was getting on the elevator to go up to my office. A woman got on wearing a lovely knitted tank top and I contemplated asking her if she had made it. I thought that would be silly though, so I didn't say anything. Lo and behold, I was surfing today on
Kat's site,
looking at her gallery and saw that she had made the exact same top! Apparently, it's Pia from Rowan 35. So now I regret not starting up a conversation. Oh well.
I had another, more significant revelation the other day. I had gotten to the neck and arm shaping in the pattern for Doris, which liberally used the phrase "AT THE SAME TIME." I decided to actually write out row by row what was going to be happening in that section so that I wouldn't end up with some tangled, off center mess for a top. Strangely enough, I found this to be a pleasant mental exercise as I enjoyed figuring out how all the different directions would come together and that while they were separate, confusing blocks of text previously, I could think it through to make something comprehensible to me.
As I was realizing this, I suddenly flashed back to when I was a child - maybe 4th or 5th grade. I had gotten a book about fashion design and became obsessed with it. I decided that when I grew up, I wanted to be a fashion designer. I eventually gave up on this dream when I figured it would be very difficult to become a well-known designer and anything I would create would probably end up at Wal-Mart or something. Well, here I am today, actually making garments for myself with my own two hands. I am certainly not at a point right now where I could create any real design of my own but as I knit more, I will get a better sense of the way garments are created and can strive to be able to eventually create some clothes entirely from my own creativity. It's just funny how our our thoughts can really come full circle and that our dreams as children can figure into our lives as adults.
Anywhooz, Doris front done, onto the back. Progress soldiers on. Hopefully, I'll have some fn Maine knitting adventures to post about in a few days. Wish me luck!
Tuesday, August 03, 2004
Last night, I revealed my blog to Cobra, my lovely boy-style companion. He was jealous and decided that he now wants
his
own website. Then he requested that I post this picture of him.
Practice SAT Analogy
Jenna: Knitting :: Cobra : Motorcycles.
Although those fast flying needles can get a little treacherous at times, my hobby is a little less dangerous. But just as hardcore.
The hottest knitting-related news of all is
I finished seaming Sonnet.
My little baby is all grown up! The thing is...I'm not sure if I like how it looks on me. I should probably not make up my mind until I put the buttons on because it's very, well, droopy without them and doesn't hold its shape on its own. Perhaps I should have figured this out when I bought the yarn, woopsies. I'll play with it some more, I'm not giving up on you yet, Sonnet!
I'm up to the armhole shaping on the front of Doris, moving along. I'm going pretty slowly with her for a few reasons. I've been using some of my leisure time to read, particularly the new David Sedaris book (which, sadly, is more poignant than hilarious). The price of the materials is also making me want to enjoy the process of makng the top. Logistically, I'm still getting used to working with the ribbon yarn and it's slowing my down a bit. I'd also say that I'm holding off on buying yarn for a little while but I think that the DC Stitch N Bitch
Kyoto
extravaganza will be starting soon and I'll need to get yarn for that, so there goes my savings...
Sleepy now, maybe I'll ramble about the Smithsonian and annoying tourists later.