Pink Monkey Knits
Using my opposable thumbs to knit up a storm!
Monday, August 16, 2004
Some may think that I went to Maine for my job. The truth is I went to have a secret tryst with Doris.
This photo should actually be titled "Jenna-bored-and-lonely-in-HoJo-and-playing-with-work-camera." Here's a closer-up view of Doris' lovely colors: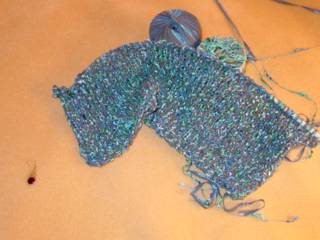 They're run together a bit in this picture but you can see the different shades and the overall ocean-y effect. I wasn't that far along when I took this pic but I'll actually finish the back tonight. Tonight! Then I'll have to try to overcome my crochet-phobia to finish the neckline and armholes. Ehhh, it makes me nervous but hopefully work friend and crochet expert Meagan will help me out. Down in the bottom, you can see the earring I use as a stitch marker. I found the pair in the front pocket of a purse I bought at a thrift store. The receipt was still with them, apparently the former owner got them while on a trip to Spain but forgot about them. I put them to good use now.
So back to Maine - it was very beautiful, great weather. I spent most of my time in Bangor, which is a way smaller town than I expected. The awesome part though is that the vegan restaurant in town is half a block from the yarn store. Man, I don't know what else a girl needs in a town. Not to mention the fact that the
City Side Yarn Co.
was
huge
and had some very nice people working there. Be sure to stop by if you're ever up there. I succumbed to this hand-dyed in Maine loveliness:
You can't see as well here, but there is some slight variation in the color throughout the ball. It is beautiful and a great deal with 570 yards in the skein! At first, I thought "hey, that's enough to make a shell from" but then I remembered that it was merino wool - probably not so great for summer wear. So instead, I think I will use it to make one of
Stefanie's
lovely designs - either a boob holder (now including directions for large tatas) or Bad Penny.
Lastly, I bought some buttons for Sonnet and finished her up.
You can see that I'm not looking so happy. I'm not sure if I like my first sweater! Such a shunde, as my Jewish grandmother would say. Look closely at the neckline there, see how it's slipping off my shoulder? And you can even see the angora fluffing off, too. I guess it looks alright but it's just so annoying to wear. The neckline could probably be stabilized with some ::shudder:: crochet but you've got another think coming if you think I'm going to spend money on another ball of that yarn just for some neck crocheting. Maybe if I hide it for a little while, I'll find it and love it. Other opinions would be greatly appreciated!
Off to celebrate Cobra's birthday, that old man.