Pink Monkey Knits
Using my opposable thumbs to knit up a storm!
Monday, September 27, 2004
Fun coming up this weekend. Saturday is the
Crafty Bastards Art and Craft Fair
.
Saturday and Sunday is the
Fall Fiber Festival of Virginia
at the Montpelier Estate.
Anyone heading out to these events? Anyone want to give me a ride to the festival on Sunday? ;)
Finally, I'd like to provide a replication of an email sent to me this week.
Date: Thu, 23 Sep 2004 07:09:17 -0700 (PDT)
From: Cobra Tuscadero
Subject: Is this what you do?
To: Jenna Pink Monkey
"You sit around and talk to other women and because you're not looking people in the eye you say the most extraordinary things about politics and sex."
--TRACEY ULLMAN on her new pastime, knitting, in the New York Daily News
Saturday, September 25, 2004
I'm proud to say that I just broke my Yom Kippur fast and I've made it through alive! Actually, it was relatively easy and probably a good experience to have once a year.
First Americans Festival
As described in my last post, I did take Tuesday off of work and rode my bike down to the Mall to check out the
First Americans Festival
commemorating the opening of the
National Museum of the American Indian.
Wow, it was so amazing. There were just thousands of people there dressed in their full regalia, or wearing shirts that said "Native Pride" or "Honor my Treaties" or "My Heroes Killed Cowboys." The mixture of people was really interesting as well, since the museum includes people from the whole Western hemisphere. Looking at the crowd, I would have only guessed that some of them were Native American as many looked very White, very Black, very Hispanic, or very Asian. As an outsider, that really was a wake up call as to the diversity present in the community. I also managed to position myself well during the speeches preceding the actual opening of the museum. I stood right next to the walkway where the speakers went from the stage to the entrance, so I saw the president of Peru, Senator Daniel Inouye, the Secretary of the Smithsonian, and, in full Cheyenne dress, Senator Ben Nighthorse Campbell and Museum Director Rich West- all real close! Inouye was tiny, I think I'm taller than him! The best part about the whole event though was the sense of community and joy that surrounded the event. People were just talking and meeting with one another, asking which trie they were from. At one point, I parked myself on a patch of grass where a group of men were banging out a drum rhythm and chanting a wordless tune. One of them stood up to say that it's a song based on a heartbeat and that they don't use their language in it so that people from all tribes can dance to it. And that's exactly what happened - about five people were circle dancing when I first got there, but it was probably about thirty when I left an hour later. The men had backpieces made from huge, decorate feathers that made them look like they had circular wings, or had carved headpieces that looked like parts from a totem pole. The women had beaded dresses where the crafter in me marveled at the beautiful rose and eagle designs. They all danced with birdlike movements, or as if they were preaching silently to the sky, or by jumping up and down on their toes or just slowly marching. I loved the color, variety and movement. Of course, I didn't get into the actual museum because you had to get early passes but I'll put it on my list when all the hype dies down. I love experiencing great DC things like this, reminds me that it really is a great place to live with so many unique events going on. You can find pictures of the museum itself
here
and from the opening day
here
.
Raggin' on Bush
Speaking of Native Americans,
here's some footage
of President Bush speaking about tribal sovereignty. His respect for native people and knowledge of their issues really just oozes from his statements.
Kyoto
I'm at an interesting point with Kyoto. After seeing
Betsy's
problems with the fit of the top
, I decided to press pause on the sash and start on the top to ensure that it will fit. I'm about halfway done with the left front, it looks gorgeous in this fantastic yarn in a lovely sea foam, and it looks like it should fit fine, especially when factoring in the collar. The problem is that, for safety's sake, I started the front in a size larger than I've been making the sash in. So it will have to be ripped, ripped - it will end up in double seed stitch after all, I suppose. I've started on Cobra's scarf, which I'll talk more about soon...
Anyone Wanna Trade?
For work, we did some citizen lobbying on Monday. It was a bit chilly in the morning so I grabbed Sonnet to wear out - it was exactly the kind of day I had planned it for. Well, when I was about to go with one of out activists to a Senator's office, I noticed that the angora had fuzzed off and was now completely covering the lovely white flowers on my skirt. I'm really frustrated with this yarn, folks, so I wanted to see if anyone out there would be interested in this Debbie Bliss Cotton Angora. I'll frog the sweater and ball up all the yarn for you. I believe I have 12 or 13 balls in the sweater. Warning - 4 or 5 balls are from different dye lots than the rest but you really can't tell, especially if you're going to do a textured knit like I did. I'd be happy to trade for some black DK (22 St/in) to make my cardigan, or some Noro or other fun variegated yarn. Leave a comment or send an email to me if you're interested in this fine luxury yarn (yes, I realize that speaking ill of it before I try and take it off my hands might not be the best tactic but A. I want to be honest to my readers and B. Lots of people out there love this yarn).
Monday, September 20, 2004
Unfortunately, my real life had to intervene this week and prevent me from doing much knitting or blogging. For work, we brought in a group of activists in for the weekend, did some organizing training and sent them up to Capitol Hill today to do some lobbying. As you might imagine, I was a little crazy and stressed this week leading up to it. The worst part was that my sleep was all messed up. But now - it's over! It went great! Huzzah!
Since I worked all weekend, I'm taking tomorrow off of work. I feel like I might be getting a little sick but if I'm for it, I'm going to head down to the opening ceremonies of the new
Museum of the American Indian
down on the Mall. It should be pretty amazing, there's supposed to be a procession of over 15,000 Native Americans to the entrance! I'll be sure to report back if I go.
Of course, this past weekend a far more important event occurred - the DC Knit Out! While I was a few hours last due to our activist training, I still got to hang out with all of the knitters on the Mall and have a really fun time. After checking out the tables from some of the LYS's (fortunately for my yarn diet, no sales are allowed on the Mall), I headed over to the fashion show tent. And who happened to sit a few rows in front of me? Why, none other than
Lauren
! Yes, my first real life blogger meeting! We had a lovely time chatting about our feelings on ponchos and Fun Fur our non-knitting mothers send us. She was a total sweetheart, I hope we can get together again sometime soon. She even put a
picture of me up on her blog
. I was trying to look very intent but I think I end up looking like a bit of a doofus. Take a close look at my pin though, can you guess what it's made from? After that, I went over the Charity Corner where some DC SnBers were crocheting together some granny squares to make donation blankets. Soooooo fuuuun!
Progress is also continuing on Kyoto. I have about 4 inches done on the bottom sash portion. I'm going to make it a little longer than the pattern calls for. Woops, I also started making it in single seed instead of double. Oh well, I like the way it looks and I'm sticking with it. Take that!
Friday, September 10, 2004
When Wendy was giving tips on how to create an interesting blog, she said photos were key. KEY. I'm not really one to dispute her but Alas, I am still diggieless. So here's some pictures to look at keep your attention, lovely readers.



I found this sweater pattern while surfing around at the Knitting Garden. It's from Noro 13. I've found myself really fascinated by people using variegated yarns in innovative ways, particularly with patterning like this. Isn't it beautiful? Ah, but it is just a pipe dream for me as I am on a strict yarn diet.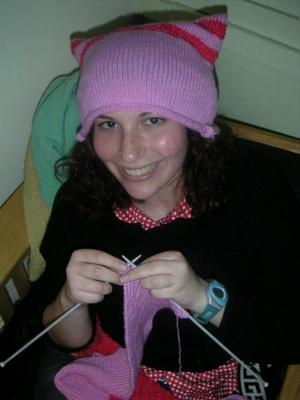 I am real knitting pink monkey in this picture, that's for sure. This photo was taken at my first EVER Stitch 'n Bitch meeting back in February. Wow, I'm really enjoy CAPITALIZING words tonight for EMPHASIS. I'm wearing one of my favorite creations, my So Damn Cute hat. Hey now, don't think I'm bragging, everyone who puts it on looks So Damn Cute. At press time, I was making the matching keyhole scarf.

And just for good measure...



Mmm, you are delicious Ewan. This is right before he embarked upon his round the world motorcycle trip. Notice that his bike is the same as Cobra's. Yeah baby, this one's for you. OK, mostly for me but a little for you.

Over Labor Day weekend, he (being Cobra, not Ewan) and I went to visit my home in Pittsburgh. Cobra had a really bad experience the only time he was there before, so this really wiped the slate clean for him as we had a really lovely time. Highlights included:

*Seeing a John Kerry pin in the shape of a Heinz pickle
*Buying a massive watermelon for 98 cents and some incredible Havarti cheese infused with dill (I have lots of trouble eating vegan in the Burgh) in the Strip District.
*My mom splurging on us by buying us vegetable-shaped loofahs for our pots and pans. Mine's an eggplant!
*Seeing Hair High, an animated, imaginative take-off on 1950's teen flicks. The animator brilliantly used scale to portray the high school environment, with the new kid shrinking tinier and tinier while all eyes watched him as he entered on his first day.
*Kennywood!!!! This theme park is over 100 years old and has 3 amazing wooden roller coasters, including one (the Thunderbolt) that's regularly voted the best coaster in the world. I hadn't been in 3 or 4 years and it was great to binge on junk food and get to the verge of nausea by riding on the circly rides.
*At the mention of folks doing the hora at a wedding, my grandmother saying, in a rare moment of clarity, "I'm not a hora!"
*Eating my favorite food in the world, a Mad Mex Chick Pea Chili Burrito.
Aw, sweet Pittsburgh, I shall miss you. But I will return soon when fair Brother comes back to visit from far afield. Till next time.