Pink Monkey Knits
Using my opposable thumbs to knit up a storm!
Friday, September 10, 2004
When Wendy was giving tips on how to create an interesting blog, she said photos were key. KEY. I'm not really one to dispute her but Alas, I am still diggieless. So here's some pictures to look at keep your attention, lovely readers.



I found this sweater pattern while surfing around at the Knitting Garden. It's from Noro 13. I've found myself really fascinated by people using variegated yarns in innovative ways, particularly with patterning like this. Isn't it beautiful? Ah, but it is just a pipe dream for me as I am on a strict yarn diet.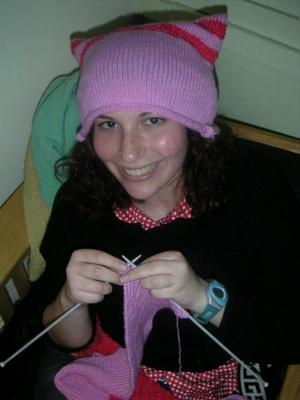 I am real knitting pink monkey in this picture, that's for sure. This photo was taken at my first EVER Stitch 'n Bitch meeting back in February. Wow, I'm really enjoy CAPITALIZING words tonight for EMPHASIS. I'm wearing one of my favorite creations, my So Damn Cute hat. Hey now, don't think I'm bragging, everyone who puts it on looks So Damn Cute. At press time, I was making the matching keyhole scarf.

And just for good measure...



Mmm, you are delicious Ewan. This is right before he embarked upon his round the world motorcycle trip. Notice that his bike is the same as Cobra's. Yeah baby, this one's for you. OK, mostly for me but a little for you.

Over Labor Day weekend, he (being Cobra, not Ewan) and I went to visit my home in Pittsburgh. Cobra had a really bad experience the only time he was there before, so this really wiped the slate clean for him as we had a really lovely time. Highlights included:

*Seeing a John Kerry pin in the shape of a Heinz pickle
*Buying a massive watermelon for 98 cents and some incredible Havarti cheese infused with dill (I have lots of trouble eating vegan in the Burgh) in the Strip District.
*My mom splurging on us by buying us vegetable-shaped loofahs for our pots and pans. Mine's an eggplant!
*Seeing Hair High, an animated, imaginative take-off on 1950's teen flicks. The animator brilliantly used scale to portray the high school environment, with the new kid shrinking tinier and tinier while all eyes watched him as he entered on his first day.
*Kennywood!!!! This theme park is over 100 years old and has 3 amazing wooden roller coasters, including one (the Thunderbolt) that's regularly voted the best coaster in the world. I hadn't been in 3 or 4 years and it was great to binge on junk food and get to the verge of nausea by riding on the circly rides.
*At the mention of folks doing the hora at a wedding, my grandmother saying, in a rare moment of clarity, "I'm not a hora!"
*Eating my favorite food in the world, a Mad Mex Chick Pea Chili Burrito.
Aw, sweet Pittsburgh, I shall miss you. But I will return soon when fair Brother comes back to visit from far afield. Till next time.